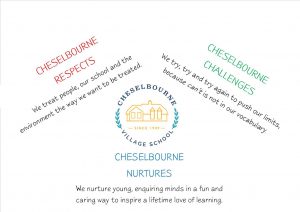 'Inspiring a Lifetime Love of Learning'
 Our Aims:
During their time at Cheselbourne Village School all children will:
Have fun in their learning and play.
Know how to respect everyone.
Learn to be kind and share.
Develop great vocabulary, number and computing skills.
Learn how to look after our world.
When children leave Cheselbourne Village School they will have an amazing future because of everything they have learnt here.
These aims and values have been developed by our school student voice in Autumn 2018.  They underpin all that we do here at Cheselbourne.
At Cheselbourne Village School our primary aim is to create a happy and safe environment in which every child can grow intellectually, physically, emotionally and spiritually. Children are encouraged to become independent, confident, thoughtful and caring individuals. We provide a broad and balanced curriculum to enable every child the opportunity to develop his or her abilities so that they can reach their full potential. We also ensure the environment is stimulating and challenging. We expect high standards in both work and behaviour and we want children to enjoy their learning and to approach everything with enthusiasm. Each child has uniquely different characteristics and abilities.  This is supports why we are Proud to be a Small School.
We believe that whilst at Cheselbourne we believe that all children will
Develop lively enquiring minds with an enthusiasm for learning
Acquire knowledge, attitudes and skills relevant to their future
Understand the world in which they live, our interdependence on others and on our environment
Use language and number effectively in a variety of ways and situations
Develop a respect and tolerance for the diversity of all people
Develop a respect and tolerance for other people's views and different races and religions
Develop the ability to question and to apply themselves to set tasks
Actively participate in the life of the school, the village and the local community
When children leave our school we sincerely hope that they are able to approach the next phase of their education with confidence and with an enthusiasm to pursue a lifetime love of learning.